RESULTS:  Chalk's Cheap wins State Tournament!
 Pictured above: Jesus Borjas, Scott Nodel, Sam Kantar, Jeff Hughes, Johnny Aguilera
Our top guys played fearlessly throughout the tournament, making it to the hotseat and winning the event undefeated in the true double elimination format. In a tense final match Sunday afternoon, the guys were down 5 – 2. Just when it looked like they might have to play two matches, the guys never gave up and fought their way back to a hill-hill nail-biter with Jeff Hughes matched up against "Miami Randy" Epperson. Not to let the spectators down, both players were determined to win one way or the other. In the end, Hughes got to the eight-ball before Epperson to win the game, the match and first place in the 2012 Sunshine State 8-Ball Tournament!  Great job guys! We're proud of you all!
 No Butts takes 3rd!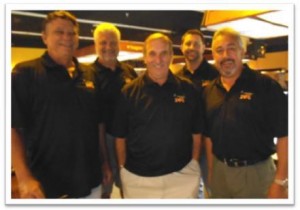 From the left: Al Cashwell, Don Walker, Ken Lee, Brandon Howard, Jerry Sotelo.
Perhaps the real story of the event was the incredible third place finish by No Butts! Few people gave this team much chance of making past the first few rounds, let alone to the semi-finals. But by mid-tournament day, No Butts was in stroke and by the end of the day, No Butts was one of three teams still standing. The last match of the night the team was down 7-3 playing against COZ (Curse of Zeno), the strong Stuart team with Zeno, Justin Gilsnan and master player Steve Ross. It was beginning to look like no more for No Butts. However, the pool gods were witih the guys on this night. They went on to win the next six games in a row putting No Butts in the Sunday semi-finals! 
With little time to warm up, the Sunday lunchtime match came quickly. The guys got off to a slow start and the experienced team from Miami, including Randy Epperson, Danny Green, Ted Harris and Chief Dave took advantage. Although disappointed not to play their fellow Palm Beach ACS members in the finals, No Butts nonetheless had a terrific time, and proved to be a truly winning team! In the words of team captain Al Cashwell, "We may have to leave early today but we sure sent a lot of people home yesterday!"  GREAT JOB!!!  We're all so proud!
Johnny Aguilera wins the Men's Singles 8-Ball event!  Jerry Sotelo finishes 5th
Playing in his first ACS tournament, Johnny Aguilera stopped some strong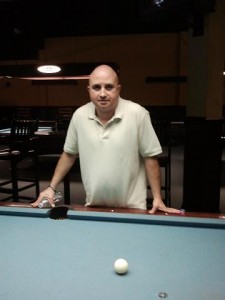 competition, including Jerry Sotelo, who was playing strong all day, in a close hill-hill match. Johnny also stopped the likes of "Miami Randy" Epperson and Danny Green. Johnny played tough throughout the entire weekend event. Jerry was eventually knocked out by Green. Way to go, Johnny and Jerry!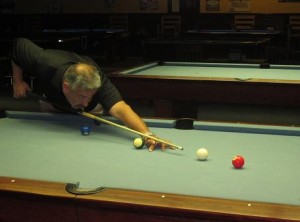 Victorya's Secrets finished fourth!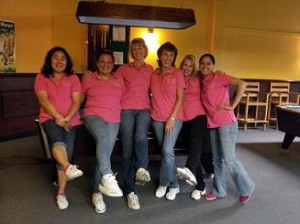 This was the first event for this time. The women have been playing together for only two months. Congratulations to Sandi Wendel, Robin Bogs, Alicia DeAbreu, Alicia Borjas, Jackie Hughes and Mimi McAndrews. 
Look for more indepth articles coming soon on AZ Billiards and In Stroke Magazine.
Go to 2012 Gallery for more pictures, courtesy of Ken Lee.
 *******
The Sunshine State 8-Ball Tournament is moving to the east coast this year and will be hosted by Ultimate Billiards. Singles (men's and women's divisions), Scotch Doubles (Jack/Jill), and 5-person Team categories (men's and women's). This event is open to players from ALL leagues (ACS, BCA, APA, VALLEY, TAP, NAPA, etc.).
$750 added to both Singles divisions
$750 added to both Team divisions
$300 added Scotch Doubles
2012 State Tournament Registration Info
Lodging

Teams must have 3 original members.  Each player must have played 6 matches during one session.